Just got back from Chicago and my first trip while following Leangains. I wasn't gone but 2.5 days, but found that getting protein on the road that's not laden in fat or sodium is no easy proposition.

My first flight was easy as it was in the morning. No breakfast was even offered on the plane, so I had some black coffee with a sprinkle of splenda and watched Riding Giants on my iPad.

Had a 2-hour layover in Minneapolis - I know! But it was the cheapest way to get to Chicago. By now it was about 12:30 EST and nearly time to eat my first meal. I found a Chili's Too by my gate and studied the menu. Burgers...too much fat...no pasta, no quesadilla's...so I settled on the quesadilla explosion salad.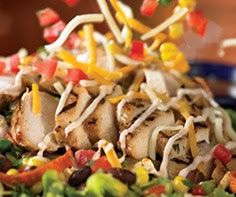 It was grilled chicken, corn, cheese, black beans, tomatoes, with a vinaigrette of some kind. Sounds good, right? Well, it eventually was, but the first one they brought out -i forgot to tell them to put the dressing on the side...it was so soggy that the lettuce was actually transparent. In sent it back and got one plain with the dressing on the side. Turns out it was actually tow types of dressing they had on there. One was like a balsamic vinaigrette and the other was some creamy chipotle stuff. I used maybe 1/4 of what the gave me. I enjoyed the salad, but it was not nearly enough protein. I would recommend having them double the chicken next time.

Once in Chicago, I was picked up by a colleague, shuttled around for a while before landing in our executive offices where, much to my delight, I found 3 tubs of protein powder in the break room. What can I say? I work for health nuts.

Still, knowing I had an evening event ahead of me, I didn't eat anything. At the event I passed on the dips and went straight for the cocktail shrimp and turkey roll ups. I did have a couple of glasses of red wine.

After the event, my colleague took me to dinner. It was after my feeding window by about an hour, but I decided it would be a good idea to eat a real meal. I had two very thick center-cut chops on the bone with broccoli and ate it all while my coworker had the smallest piece of fish I've ever seen, broccoli and the two giant pieces of garlic Texas toast that came with our meals...I skipped my toast.

The next morning I had my usual black coffee and I was very much looking forward to lunch. We headed downtown to pizzeria UNO where I once again out-ate my colleague - I should probably mention that he is large and quite overweight. I had two gigantic pieces of deep dish pizza with sausage, pepperoni, green peppers, mushrooms, tomatoes and onions. Other than being thirsty and burping a bunch for about an hour after, I was hungry again a few hours later.

No harm done.

Went out that night and imbibed on a few martinis and an appetizer of sweet chili beef in lettuce wraps. While I was supposed to go lo to no carb on a drinking day, the timing couldn't be helped. Hopefully my lite dinner offset much of the damage. Oh, I and had a short workout that morning where I did 4 sets of chin ups and standing military presses.

Friday I headed home and had a chicken Cobb salad (with the dressing on the side) for lunch and chicken Marsala (no pasta) and a salad for dinner when I got home.

I have no idea what my calories were for the week, but I feel light and my pants are still loose. Need to work harder on getting more protein on the road. I think I'll run with the jerky idea a couple of you suggested.

Gym today for a real workout and I cant wait!